Are you looking to learn a new skill and hone your woodworking craft in New York City? Then you're in luck! With woodworking classes in New York becoming more and more popular, there are now a variety of options available to help you learn the basics and more of this popular hobby. From traditional hand tools to modern machinery, woodworking classes in New York can provide you with the knowledge and expertise to turn your woodworking dreams into reality. In this article, we'll take a closer look at some of the best woodworking classes in New York, and explore the various options available to help you become a master woodworker.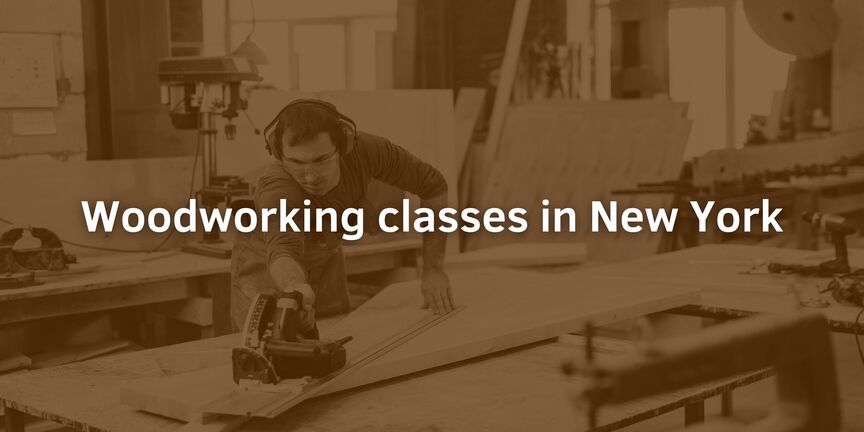 So if you're looking for a fun, creative hobby, or if you want to learn how to make beautiful pieces of woodwork, I'm here to help. Woodworking classes in New York will teach you everything you need to know to get started. So come join me and start your woodworking journey!
Find the closest and best woodworking classes near New York:
Makeville Studio
Address: 125 8th St, Brooklyn, NY 11215
Phone: (917) 873-5542
Website: makeville.com
Craftsman Ave
Address: 117B 11th St, Brooklyn, NY 11215
Phone: (929) 266-9513
Website: craftsmanave.com
The DIY Joint
Address: 600 Palisade Ave, Union City, NJ 07087
Phone: (201) 689-4922
Website: thediyjoint.com
NYC Carpenters Training Center
Address: 395 Hudson St # 2, New York, NY 10014
Phone: (212) 727-2224
Website: nyccarpenterstrainingcenter.org
DUMBO WORKSHOP
Address: 81 Pearl St, Brooklyn, NY 11201
Phone: (917) 559-0092
Website: dumboworkshop.com
Brooklyn Woods Inc
Address: 125 8th St, Brooklyn, NY 11215
Phone: (718) 389-3636
Website: bwiny.org
MakerSpace NYC
Address: Brooklyn Army Terminal, 140 58th St building b unit 1c, Brooklyn, NY 11220 / 450 Front St, Staten Island, NY 10304
Phone: (718) 273-3951 / (718) 273-3951
Website: makerspace.nyc
Bien Hecho Academy
Address: Brooklyn Navy Yard, 63 Flushing Ave, Brooklyn, NY 11205
Phone: (718) 237-2999
Website: bienhechoacademy.com
Advantages of Woodworking Classes in New York
Woodworking classes in New York can offer many advantages, including:
Skill development: Woodworking classes can teach you the skills you need to create beautiful and functional pieces of furniture or other wooden items. With the guidance of experienced instructors, you can learn the techniques for working with different types of wood, using various tools and machines, and building different types of joints and structures.
Access to equipment: Woodworking requires specialized tools and machines that can be expensive to purchase and store. By taking woodworking classes, you can gain access to high-quality equipment that you might not have otherwise, including saws, routers, sanders, and lathes.
Community and support: Woodworking classes can also provide a sense of community and support, as you learn alongside other students who share your interests and passion for woodworking. You can exchange ideas and tips, collaborate on projects, and get feedback and encouragement from your peers and instructors.
Personal satisfaction: There is a great sense of satisfaction that comes from creating something with your own hands, especially when it is a beautiful and functional piece of furniture or art. Woodworking classes can help you tap into that satisfaction and develop your skills to create increasingly complex and impressive projects.
Stress relief: Woodworking can also be a therapeutic activity that helps reduce stress and anxiety. The focus and concentration required to work with wood can help you relax and clear your mind, while the satisfaction of completing a project can boost your mood and sense of accomplishment.
Career opportunities: If you are interested in pursuing a career in woodworking, taking classes can be a great way to gain the skills and knowledge you need to get started. Many woodworking schools offer job placement assistance, internships, and other resources to help you launch your career.