Welcome to the wonderful world of woodworking classes in Grand Rapids! This is a great way to learn the craft of woodworking in a hands-on setting, and to become part of a fun and vibrant woodworking community. In Grand Rapids, you'll find a wide variety of woodworking classes available to suit every skill level and interest. Whether you're a beginner looking to learn the basics, or an experienced woodworker looking to take your skills to the next level, there's a class for you.
Here, you'll find classes that teach everything from basic woodworking techniques and tools to more advanced woodworking skills like joinery, veneering, and marquetry. You can also find classes that focus on specific projects, such as creating a custom furniture piece or building a boat. Many classes also offer the opportunity to work with a variety of woods to create unique and beautiful pieces.
At woodworking classes in Grand Rapids, you'll also find a variety of skilled instructors who can help you learn the craft. They will help you develop your skills, answer questions, and provide guidance and support. Many classes also offer demonstrations, which allow you to observe how certain techniques and tools are used.
At the end of your class, you'll have the satisfaction of creating something with your own hands and the confidence to tackle more complex projects. Plus, you'll have a great addition to your woodworking toolbox and a new set of skills to apply to your future projects. So, if you're looking for a way to learn woodworking and be part of a supportive woodworking community, woodworking classes in Grand Rapids are the perfect place to start.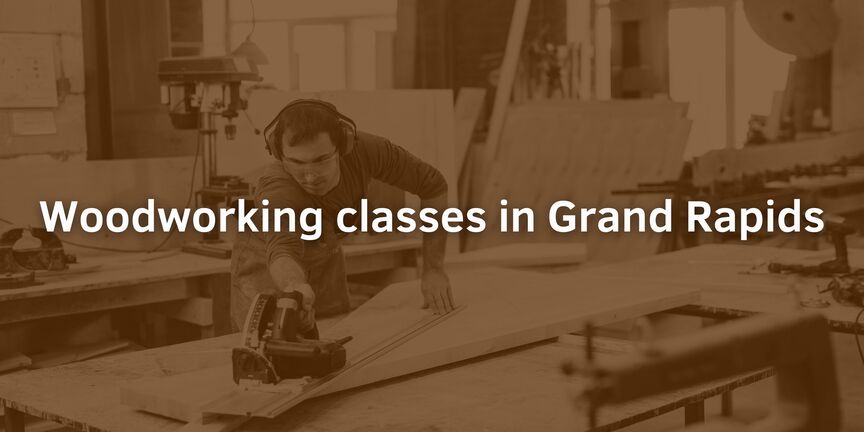 Find the closest and best woodworking classes near Grand Rapids:
Name: Woodcraft of Grand Rapids
Address: 2914 Broadmoor Ave SE, Grand Rapids, MI 49512
Phone: (616) 957-9663
Website: woodcraft.com
Name: Grand Rapids Woodworking, LLC
Address: 3993 Roger B Chaffee Memorial Blvd SE Suite D, Wyoming, MI 49548
Phone: (616) 301-8719
Website: grandrapidswoodworking.com
Name: Page Woodworking
Address: 704 Crofton St SE, Grand Rapids, MI 49507
Phone: (616) 890-0109
Website: woodhousedesigns.com
Name: Lumber2Love
Address: 2882 Northridge Dr NW, Grand Rapids, MI 49544
Phone: (616) 350-9286
Website: lumber2love.com
Name: Hammer & Stain West Michigan
Address: 3901 Chicago Dr SW Suite 109, Grandville, MI 49418
Phone: (616) 236-3770
Website: hammerandstainwestmichigan.com
Name: Straight and Narrow Workshop
Address: 538 Eastern Ave SE, Grand Rapids, MI 49503
Phone: (616) 308-7200
Website: straightandnarrow.work
Name: Kendall College of Art and Design of Ferris State University
Address: 17 Fountain St NW, Grand Rapids, MI 49503
Phone: (800) 676-2787
Website: kcad.ferris.edu
Name: GRCC Leslie E. Tassell M-TEC
Address: 622 Godfrey Ave SW, Grand Rapids, MI 49503
Phone: (616) 234-3800
Website: grcc.edu
Name: The Mud Room
Address: 1971 E Beltline Ave NE Suite 103, Grand Rapids, MI 49525
Phone: (616) 259-7269
Website: themudroom.us
Name: Grand Rapids Carvers Inc
Address: 4465 Roger B Chaffee Memorial Blvd SE, Kentwood, MI 49548
Phone: (616) 538-0022
Website: grcarvers.com
Learn Woodworking in Grand Rapids: Tips, Classes & Supplies
Grand Rapids, Michigan is an excellent place to learn woodworking. There are several tips, classes, and supplies available to help you get started.
Tips:
1. Take a woodworking class. Many colleges and technical schools offer woodworking classes, as well as woodworking hobbyists offering classes in the area.
2. Invest in quality tools. Investing in quality tools will not only help you get better results, but also ensure that your tools last longer.
3. Do your research. Read books or watch online tutorials to learn more about the tools and techniques used in woodworking.
Classes:
1. Grand Rapids Community College offers a variety of woodworking classes including Introduction to Woodworking, Cabinetmaking, and Furniture Design.
2. The Woodworking Guild of Grand Rapids offers classes for all skill levels in woodworking, from beginner to advanced.
3. The Michigan State University Extension in Grand Rapids offers woodworking classes for both adults and children.
Supplies:
1. Grand Rapids-area hardware stores such as Lowe's and Home Depot offer a variety of woodworking supplies.
2. Grand Rapids Woodworking Supply (GRWS) is a locally owned and operated woodworking supply store that offers a variety of tools and supplies.
3. Online stores such as Rockler and Woodcraft offer a wide selection of woodworking supplies and tools that can be delivered to your door.
Woodworking Classes for Everyone in Grand Rapids | Learn Woodworking Skills Today
If you're looking for woodworking classes in Grand Rapids, Michigan, there are several options available. The Grand Rapids Community College offers beginners classes in furniture making and woodworking. The classes cover basic techniques for creating various projects, such as furniture and cabinetry.
The Grand Rapids Area Woodworkers Guild also offers classes for all skill levels. The classes range from basic woodworking techniques to more complex projects. The Guild also offers demonstrations and special events throughout the year.
The Grand Rapids Public Library also offers woodworking classes. The library's classes focus on beginner and intermediate woodworkers, teaching them the basics of woodworking, including safety, joinery, and finishing.
Finally, the Grand Rapids Woodworking School offers a variety of classes for all skill levels. The school's classes are project-based and focus on teaching students the fundamentals of woodworking and how to create beautiful pieces of furniture.
Explore Woodworking in Grand Rapids: Experience the Joy of Crafting Woodwork
Explore Woodworking in Grand Rapids is a unique program that provides a hands-on experience for aspiring woodworkers. The program offers a wide variety of classes and workshops that are designed to teach the basics of woodworking, from choosing the right tools and materials to creating finished projects. Participants will learn how to safely use equipment, read plans, and create beautiful pieces of woodwork. The program also provides an opportunity to meet other woodworkers and discuss their shared passion. The goal of the program is to provide a fun, educational experience that encourages creativity and builds confidence in woodworking skills. The program is suitable for people of all ages and skill levels, and is open to anyone who is interested in learning more about woodworking and the joy of crafting woodwork.
Woodworking classes in Grand Rapids are a great way for those interested in woodworking to learn the fundamentals and develop their skills. The classes are taught by knowledgeable and experienced instructors who can guide you through the basics and help you develop your own projects. There is a variety of classes available for both beginner and advanced woodworkers, so you can find a course that meets your needs. Additionally, the classes are reasonably priced and the atmosphere is relaxed and friendly. For anyone interested in woodworking, Grand Rapids is a great place to start.